KWPN stallion selection day four: another 49 dressage stallions will try their luck
Yesterday, another 14 KWPN dressage stallions were granted an invite for the second round viewing, bringing the total to 46 stallions. Today, another 49 horses will try their luck in the couloir. As you've gotten used to by now, DigiShots will be present to keep you up to date with the selected horses.
Like yesterday, the viewing can be followed live through www.kwpn.tv and the online catalogue can be downloaded here. DigiShots will be present throughout the whole event. Every day we'll share the photographs of the selected stallions on our website. As usual, it'll be possible to order the photographs at our photo booth in Ermelo or online.
Results
The following dressage stallions have been selected by the stallion committee (consisting of Bert Rutten, Johan Hamminga, Wouter Plaizier and aspirant-member Sönke Rothenberger) today:
428. Private Pleasure (Jameson RS2 x Dream Boy). Fokker: W.L. Plaizier, Heerjansdam. Geregistreerde: W. Plaizier, Heerjansdam en J.T.M. Maree, Honselersdijk.
438. Pendragon (Kaiser Weltino x Johnson). Fokker: I. van Dongen, Boijl. Geregistreerde: M. Schalekamp, Noordwolde.
439. Porsche Panamera JCS (Kilian x Uphill). Fokker: C. van der Meer, Stieltjeskanaal. Geregistreerde: T. Driessen, Heelsum.
440. Pereggi (Kilian x All At Once). Fokker/geregistreerde: Dressuurstal Nathalie Smeets, Rhenoy.
443. Peter Pan (King Karim x Rousseau). Fokker: K. Reitsma, Siegerswoude. Fokker/geregistreerde: K. Reitsma, Siegerswoude en Stal Naberink, Oosterwolde en L. Zwart, Oosterwolde.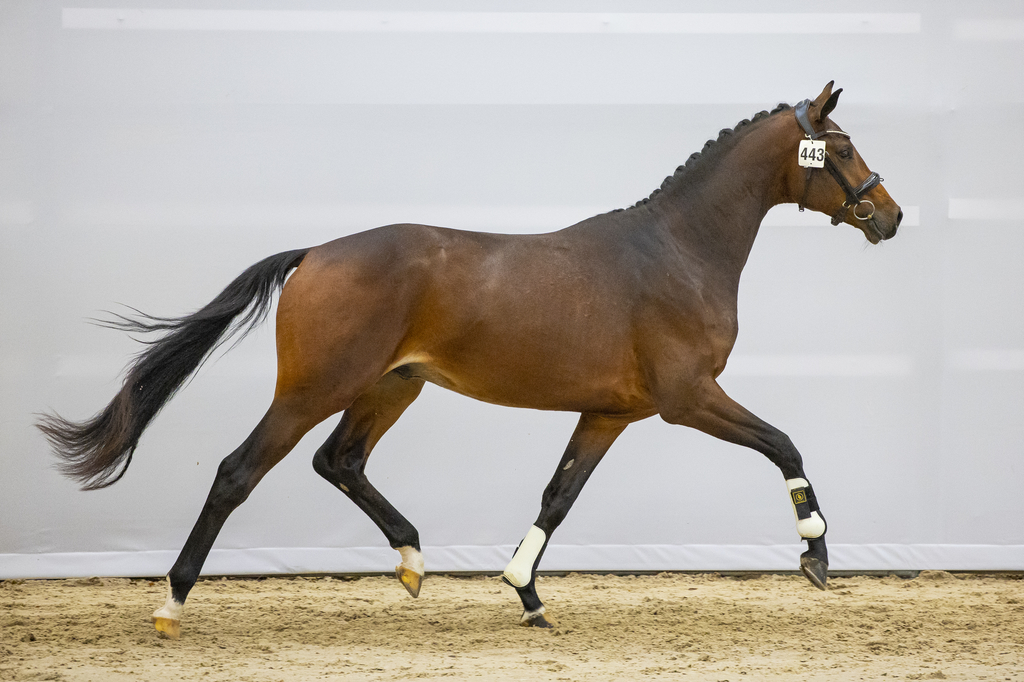 506. Pique (Lord Europe x Bordeaux). Fokker: A.P.J. Romijnders, Oss. Geregistreerde: J.M. van Uytert, Heerewaarden.
412. Prime Time (Jameson RS2 x Apache). Fokker: M. Konijn-Egas, Zuidoostbeemster. Geregistreerde: C.B. Becaert, La Haye.
434. Pirelli (Just Wimphof x Governor). Fokker: H. de Rijke, Ede. Geregistreerde: M. Hendriksen-de Rijk, Lunteren en R.J.M. Kaufeld-Jansen, Ede.
461. Perfectionist (Ladignac x Samarant). Fokker: P.H.A. Coolen en R.P.A. Coolen, Schaijk. Geregistreerde: F.T.J. Minkels, Uden.
463. Paddington Geuzenhof (Lantanas x Krack C). Fokker: S. Maakenschijn, Chaam. Geregistreerde: Van Olst Horses, Den Hout.
465. Pasadanas (Lantanas x Tuschinski). Fokker/geregistreerde: A. van Erp, Heesch.
415. Paco Rabanne (Jameson RS2 x Capri Sonne Jr). Fokker: C.A. Telussa Baas, Oostkapelle. Geregistreerde: T.J.M. Coomans, Oud-Beijerland en M.C.H.I. Rentmeester, Ovezande
427. Proud James (Jameson RS2 x Johnson). Fokker: Y.M.M. van Maasacker, Cuijk. Geregistreerde: Y.M.M. van Maasacker, Cuijk en M. Verweij, Hem
Source: DigiShots