Today's qualifier: 'Separating the wheat from the chaff', with Sweden on top
A lot can be said about today's qualifier. But, when looking for a proverb to sum it all up, 'separating the wheat from the chaff', certainly seems fitting. The course proved to be in-cre-di-bly difficult for quite a few combinations, yet again some amazing rounds were put in by the world's very best combinations, whom made the course look like an absolute piece of cake. Ten teams qualified for tomorrows medall finale: Sweden, Belgium, Germany, Switzerland, The United States of America, France, Great-Britain, Brazil, The Netherlands and Argentina.
Understandably, to some today's competition is right on the edge of what we might like to put our four legged athletes through. Still: it is the Olympic Games. Much too often the result of a Nations Cup competition can be predicted well ahead. But in this format, with just three riders competing per nation and no option for a strikethrough result, the team really, really has to be up to par. Every. Single. Combination. And that is something that – I bet we can all agree on – should be expected from the greatest, most highly anticipated international sport manifestation that is the Olympic Games. If you or your horse are not ready, if you can't live up to that standard, then don't go in.
That today's effort wasn't an impossible one to accomplish, was shown beautifully by the mighty team of Swedes with Henrik von Eckermann, Malin Baryard-Johnsson and Peder Fredricson. All three their rounds made your heart skip a beat: so athletic, so perfectly in tune, so wonderfully ridden. They showed us what makes the equestrian sport so incredibly beautiful… and what it takes to be a true Olympic athlete.
Just two clear
From the 19 teams coming to the start, only the 10 best teams are able to qualify for tomorrow's Finale, which starts at 12:00 CET.
Opening the competition was Ondrej Zvara and Cento Lano (v. Cento Lano) for the Czech Republic, coming over the finish line with 15 penalties, showing were the difficulties lie in this course designed by Santiago Varela and his technical team, lead by Louis Konickx.
Like earlier this week, it seems most combinations get into trouble in the final part of the course, with a lot of faults in the number 13 red-and-white double, inspired by the Hanafuda playing cards.
Japanese rider Daisuke Fukushima and Chanyon (v. Chacco-Blue), who impressed in Wednesday thrilling Individual Finale, came home with 8 penalties. First to come close to a clear was Enrique Gonzalez and Chacna (v. Chacco-Blue) for Mexico, finishing with one time penalty. Simon Delestre and Berlux Z (v. Berlin) overcame the same, adding 1 penalty to his team's score. So did Martin Fuchs and Clooney 51 for Switzerland, the Belgian substitute rider Pieter Devos with Claire Z, Andre Thieme with DSP Chakaria for Germany,
After their amazing effort in the Individual competition earlier this week, it comes to nobody's surprise that the first clear combination is one from Sweden. Henrik von Eckermann and King Edward (v. Edward 28), who ended in fourth in Wednesday's finale, showed another beautifully ridder, agile round, putting Sweden on top of the list of lucky ten. Marlon Modolo Zanotelli and Edgar M (v. Arezzo VDL) stayed clear for team Brazil as well.
Willem Greve and Zypria S for The Netherlands we're so lucky today, crossing the finish line with 13 penalties, pushing his team well off track to a spot in the Finale. With just three riders starting per nation and no option for a strikethrough result, every single effort counts…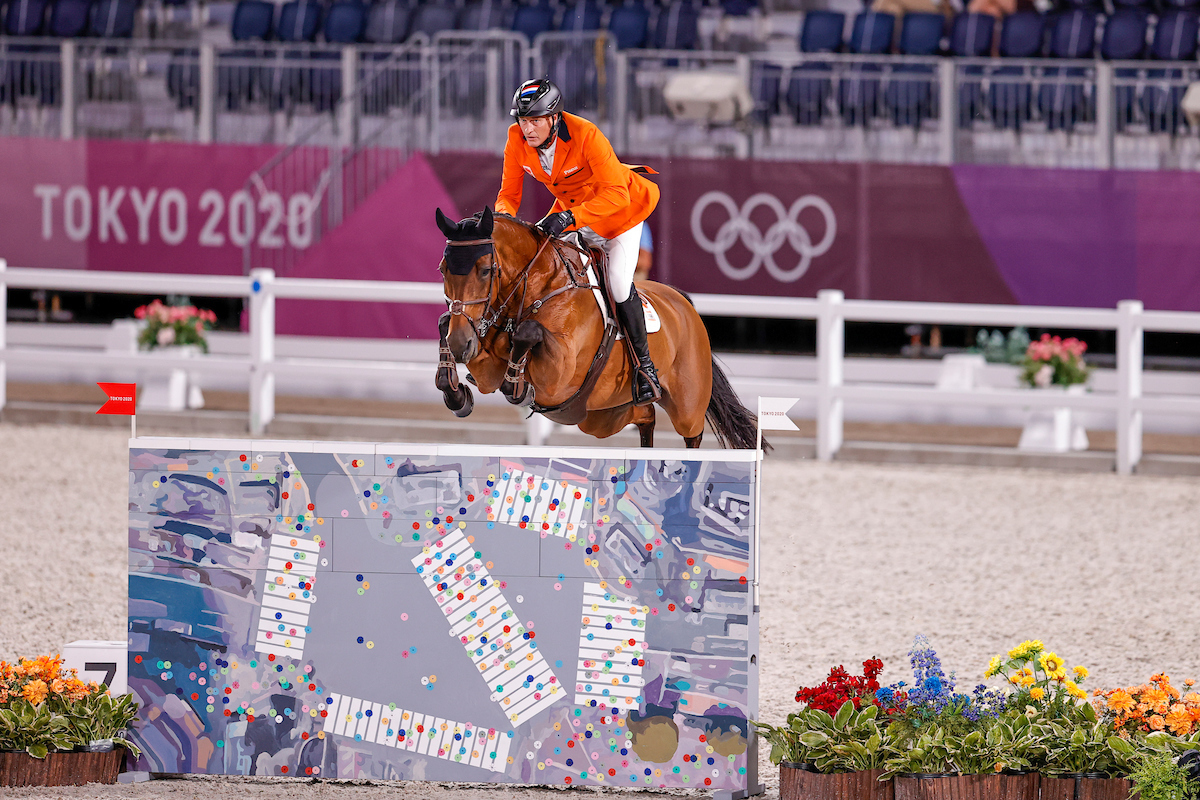 Second riders
On to the second go for each nation. After a tumble for team Israel and refusal for Mexico a few changes to the start list were made during the break. Both Koko Saito with Chilensky for Japan and Bertram Allen with Pacino Amiro for Ireland have decided to withdraw from participating any further.
As the second rider for France, Penelope Leprevost and Vancouver de Lanlore made a jumping fault and came home a little too late, bringing France to a total of 6 penalties.
Malin Baryard-Johnsson with the scopey Kashmir van Schuttershof-mare Indiana adds another faultless rounds to their team's score, endorsing the country's top form once again.
With a jumping fault by both Laura Kraut with Baloutinue and her team mate Jessica Springsteen with Don Juan van de Donkhoeve, the USA is on total 8 penalties, which the team should be very content with.
Bryan Balsiger and Twentytwo Des Biches (v. Mylord Carthago) added 0 penalties to the Swiss score of 1 penalty. Jerome Guery and Quel Homme de Hus equalled Devos's score op just 1 time penalty, bringing Belgium to two penalties. Two time faults were noted for Maurice Tebbel and Don Diarado (v. Diarado), bringing the German team to a total of 3 penalties.
Marc Houtzager and Dante for The Netherlands then. Not much cheekiness from Dante this time around, but a wonderful round with a fault on the tricky Hanafuda double and one for time. With that, the Dutch team is on a total of 18, remaining in a position just outside the top 10.
Ten teams selected
Ashley Bond with Donatello 141 for Israel, Darragh Kenny with Cartello for Ireland and Eiken Sato with Saphyr des Lacs for Japan withdrawing for further participation, all their three nations are out.
Substitute rider McLain Ward with Contagious jumped to five penalties for the USA, qualifying the country for the Finale. Winner of the gold individual medal Ben Maher and Explosion W add a jump fault to Great Britains score too, coming to a total of 20 and qualifying. Maikel van der Vleuten and Beauville Z jumped to eight, just keeping The Netherlands within the lucky 10.
Argentina, Brazil, France and Switzerland qualified as well. Just a couple of time penalties bring Germany and Belgium both to a total score of 4 and with another stunning clear round of Peder Fredricson and All In, the mighty Swedes as ranking the top of the leaderboard.
In conclusion, we'll be seeing these ten teams back in tomorrows Team Finale, which starts at 12:00 CET. All scores will be erased, making the teams start with a clean slate. Find the complete, detailed results here.
Sweden – 0 penalties
Belgium – 4 penalties
Germany – 4 penalties
Switzerland – 10 penalties
United States of America – 13 penalties
France – 15 penalties
Great Britain – 20 penalties
Brazil – 25 penalties
The Netherlands – 26 penalties
Argentina – 17 penalties
Source: DigiShots News
Photos: Dirk Caremans – Hippo Foto