Sweden reigns supreme at Tokyo Olympics winning team gold!
Four incredibly challenging courses, two jump-offs, three wonderful horses, three amazing riders… and just two poles down over all four days. That's the brilliant effort that team Sweden put in during these Olympics, winning not only an individual silver medal, but also team gold this afternoon. Henrik von Eckermann, Malin Baryard-Johnsson and silver-medalist Peder Fredricson grabbed team gold in a nail-biting jump-off against team USA. The Americans ended with a well-deserved silver team medal and bronze went to Belgium. Team The Netherlands ends in place four.
Sitting on the edges of our seats, DigiShots followed all the action. As did our colleague Dirk Caremans on the scene, providing us with his amazing photographs to illustrate this article. Read a report of the competition as it unfolded down below…
First to go
First on today's start list is Fabian Sejanes with the Dutch Warmblood Emir (v. Eurocommerce Dubai) for Argentina, coming to a total of 14 penalties.
Marc Houtzager was the first for The Netherlands to go. With the thirteen-year-old KWPN-mare Dante (v. Canturano) he came in a little too close to the Hachiko-fence and had an unlucky pole down on 12B, the colourful Japanse fans. With a penalty for time, the combination finished with a total of 9 penalties.
Marlon Modolo Zanotelli and the Arezzo VL-gelding Edgar M noted 12 penalties, starting the Brazil team off with 12 penalty-points.
A big splash in the water and some troubles in the final part of the course, brings Great-Britain rider Holly Smith with Denver (v. Albeuhren's Memphis) to 16 penalties.
Riding Berlux Z, a ten-year-old Zangersheide-gelding sired by Berlin, Simon Delestre for France completed their course with just a single time penalty, showing that Santiago Varela's course wasn't much of a problem for them.
Doing herself and the USA proud, Laura Kraut and her relatively new ride Baloutinue (v. Balou du Rouet) set the Americans off to a brilliant start with a wonderful clear round.
Some trouble on the way for the Swiss rider Martin Fuchs and Clooney 51 (v. Cornet Obolensky), with an early pole down at 3A and a hoof in the water, coming to 8 penalties in total.
Andre Thieme and DSP Chakaria (v. Chap 47) were well on their way, but ran into trouble near the end of the course with the tricky Japanse fans-double and the wooden Calligraphy-fence. The put Germany on a total of 8 penalties.
Just a single pole down for first combination Pieter Devos and Claire Z (v. Clearway), brings Belgium to a total of 4.
The first to start for the mighty Swedes, who've been having an absolutely amazing go in Tokyo, are Henrik von Eckermann and the eleven-year-old chestnut gelding King Edward (v. Edward 28). And again, the pair put in a wonderful clear. Team Sweden is certainly doing what seems close to impossible, not having had one single penalty all week.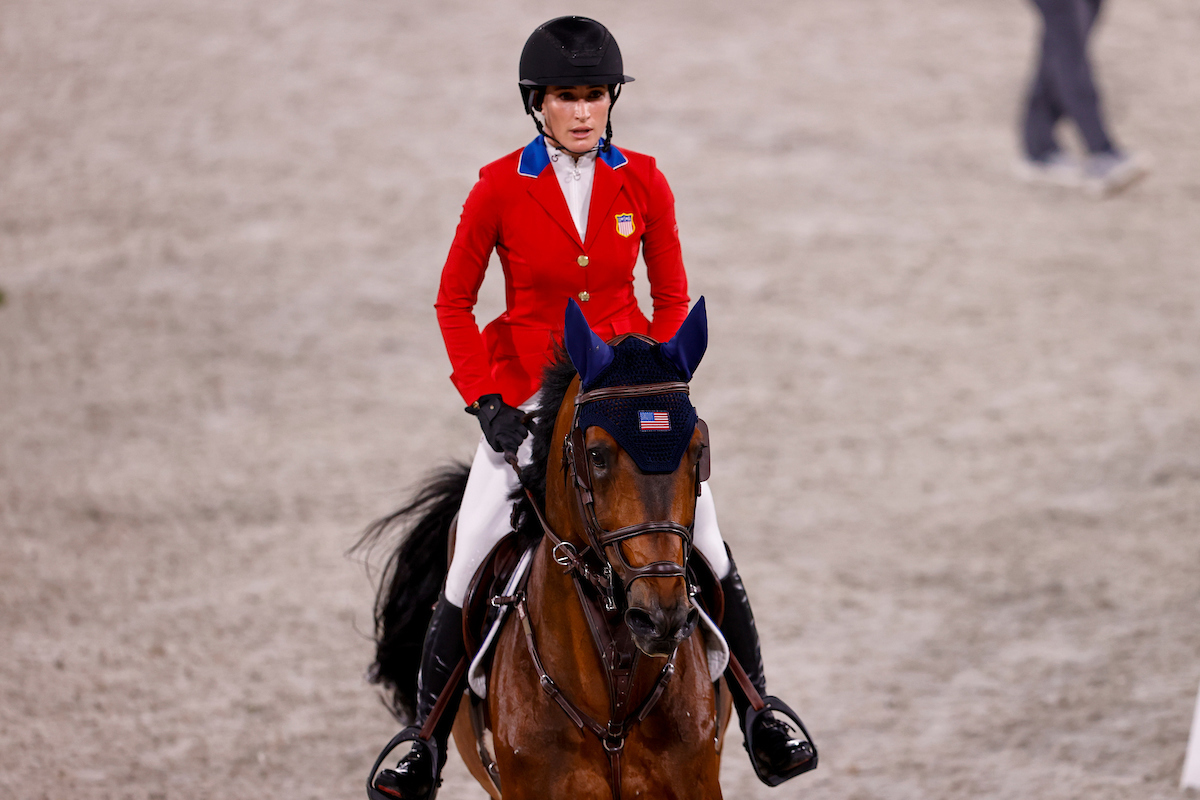 Second
Martin Dopazo and the Holsteiner-gelding Quintino 9 (v. Quinton) are second to start and add another 13 points to his team's score, bringing Argentina to 27.
Substitute rider Harrie Smolders, replacing Willem Greve, did what he was brought in to do: just a couple of weeks after recovering from his fractured rib, he jumps his chestnut gelding Bingo du Parc (v. MyLord Carthago) to a wonderful faultless round. With that, The Netherlands remains on a total of 9 faults.
Yuri Mansur and Alfons (v. Aromats) just had a single fence down on the fence 5 triple combination, which puts Brazil on a total of 16 penalties after two rounds.
Two faults in both the combinations for Harry Charles with Romeo 88 (v. Contact van de Heffinck) adds 8 penalties to Great Britain's score, whom are now on a total of 24.
As the second combination for France, Matthieu Billot and Qual Filou 13 (v. Quidam's Rubin) match their teammate's result, coming home with just a single time fault. France is now on 2 faults.
Jessica Springsteen and Don Juan van de Donkhoeve (v. Bamako de Muze) are second to go for the USA. The Mascot-fence comes down early on in their round, but just leaving it at that, she brings her team to 4 penalties.
With 16 penalties to add to Switzerland's score, Bryan Balsiger and Twentytwo de Biches (v. MyLord Carthago), put his team well out of any hopes for a medal. They're now sitting on a total of 24.
Representing Germany next is Maurice Tebbel with Don Diarado, a lovely Rheinlander-stallion out of Diarado. A late fall of the pole on 12B, adds 4 penalties to Germany's score, coming to a total of 12.
Jerome Guery and Qual Homme de Hus (v. Quidam de Revel) stay right in the hunt, after putting in a great clear round. With that, Belgium is still on 4 penalties, equalling the United States.
What another wonderful round from Sweden! An unlucky pole down for Malin Baryard-Johnsson and Indiana (v. Kashmir van Schuttershof) breaks their faultless spell, but still leaves her team well within gold medal contention!
In reverse order
After a short break, each nation's final rider came in, in reverse order of the standings, with Argentina first and France last. With Great-Britain in a disappointing ninth place (and his horse having put in such an amazing effort the last couple of days), Ben Maher and Explosion W decided to withdraw from competing any further.
With 27 penalties on the score board for Argentina already, Matias Albarracin and Cannavaro 9 (v. Cornet Obolensky) add another 22, coming to a final score of 49 penalties.
Steve Guerdat for Switzerland is next. Standing at 24 penalties, there's no chance for a medal for the team, yet its wonderful to see Guerdat and Venard de Cerisy (v. Open Up Semilly) come in for a final round. And I nice one that was, with just a penalty on the tricky Shinkyo Bridge fence, right after the open water. This brings Switzerland to a total of 28 points.
With some troubles in all three combinations, Pedro Veniss riding Quabri de L'Isle (v. Kannan) for Brazil add 13 penalties to his team's score. The Brazilians end on a total of 29.
A retirement for Daniel Deusser and Killer Queen for Germany, after the mare being caught off-guard on her distance coming into the combination. With that, the German team find themselves in a final position under Argentina.
Bronze medalist Maikel van der Vleuten and Beauville Z (v. Bustique) couldn't quite do it today, adding another 8 penalties to the score of The Netherlands, ending on 17 in total.
Team Belgium is still well in the fight for a medal and when it comes to their final rider Gregory Wathelet, they're going to give it their everything. But even his scopey Nevados S (v. Calvados Z) can't quite reach over those two tricky triple and double combinations, adding 8 penalties to Belgium's score. With that, they're end on a total of 12.
McLain Ward is riding the twelve-year-old Contagious (v. Contagio) last for the USA. He's not only chasing a clear, but also a quick time. There will only be a jump-off for first place, the rest of the medals will be decided on an accumulation of time and penalties. Ward certainly wasn't hanging about, but did get unlucky towards the end of his round. Adding 4 penalties to the score, the USA ends on a total of 8.
With his fantastic little bay gelding All In (v. Kasmhir van Schuttershof) Peder Fredricson – who, fun fact, competed at the 1992 Barcelona Olympics in the discipline of eventing – once again shows his genius… but then the very final fence comes down! With that Sweden equals the USA, albeit being a little quicker… Will this bring us to a jump-off?
What will it be? With just 2 penalties for France, they are this close to winning the gold medal. All comes down to Penelope Leprevost… but then her Vancouver de Lanlore (v. Toulon) cracks under pressure. An elimination on the triple combination absolutely shatters France's hopes for a medal!
Sweden against USA
And with that Belgium takes bronze… and Sweden and the USA will meet each other for a jump-off to decide for gold and silver!
Sitting on the edge of our seats, we see Laura Kraut and Baloutinue enter the ring first. With zero penalties and a time of 41,33 seconds Kraut lays down the gauntlet.
Henrik von Eckermann and King Edward are next: they just missed out on the individual medals, but certainly didn't miss out on putting down a fast time. Almost folding over the fence posts of the double, he stays clear in exactly 42,00 seconds.
Starting a little slow to her round, Jessica Springsteen's Don Juan van de Donkhoeve quickly speeds up and finishes clear in 42,95 seconds.
Malin Baryard-Johnsson then. Starting right on an angle, Indiana and his rider cut their corners wherever they can. Flying over the final fence, she absolutely nails the distance and stays clear in a quick 41,89 seconds. With that, Sweden is in the lead by just a second and a half…
The great McLain Ward and Contagious knows very well how quick Peder Fredricson can be, so he trows the throttle well open. With an insanely quick 39,92 seconds, he leaves the final decision in Fredricson's hands.
Starting their jump-off in the most precise way possible, they take an insane leap over the second to last fence, speeding towards their final jump. Well ahead of Ward's time, Peder Fredricson and All In win team gold in amazing fashion with a time of just 39,01 seconds!
With that, Sweden takes a well deserved team gold, silver goes to USA and Belgium goes home with bronze.
Source: DigiShots News
Photos: Dirk Caremans – Hippo Foto