Gold for Germany at 2020 Tokyo Olympics
The German team wins the gold medal at the 2020 Tokyo Olympics. With a total score of 8178 points, Dorothee Schneider with Showtime FRH, Isabell Werth with Bella Rose 2 and Jessica von Bredow-Werndl with Dalera TSF, dominated the Grand Prix Special under the Japanse starry evening sky. Silver goes to the United States of America, Great-Britain goes home with bronze.
Severo Jurado Lopez and the Dutch warmblood Fendi T (v. Negro) were the first combination to enter the Tokyo ring, riding a neat test with some nice half-passes and a lovely series of flying changes, scoring a satisfying 2308 points. Today all seven judge's points are summed up instead of converted to percentages, with a maximum possible score of 3290 points.
In today's Grand Prix Special there was an increased emphasis on passage and extended trot and there's two opportunities for the riders to show the one tempi changes. In comparison to this weekend's Grand Prix, in this test the piaffe and passage count for up to 24% of the obtainable points. Making it a test that played more towards the hooves of some of our favourite four-legged athletes then it did to others.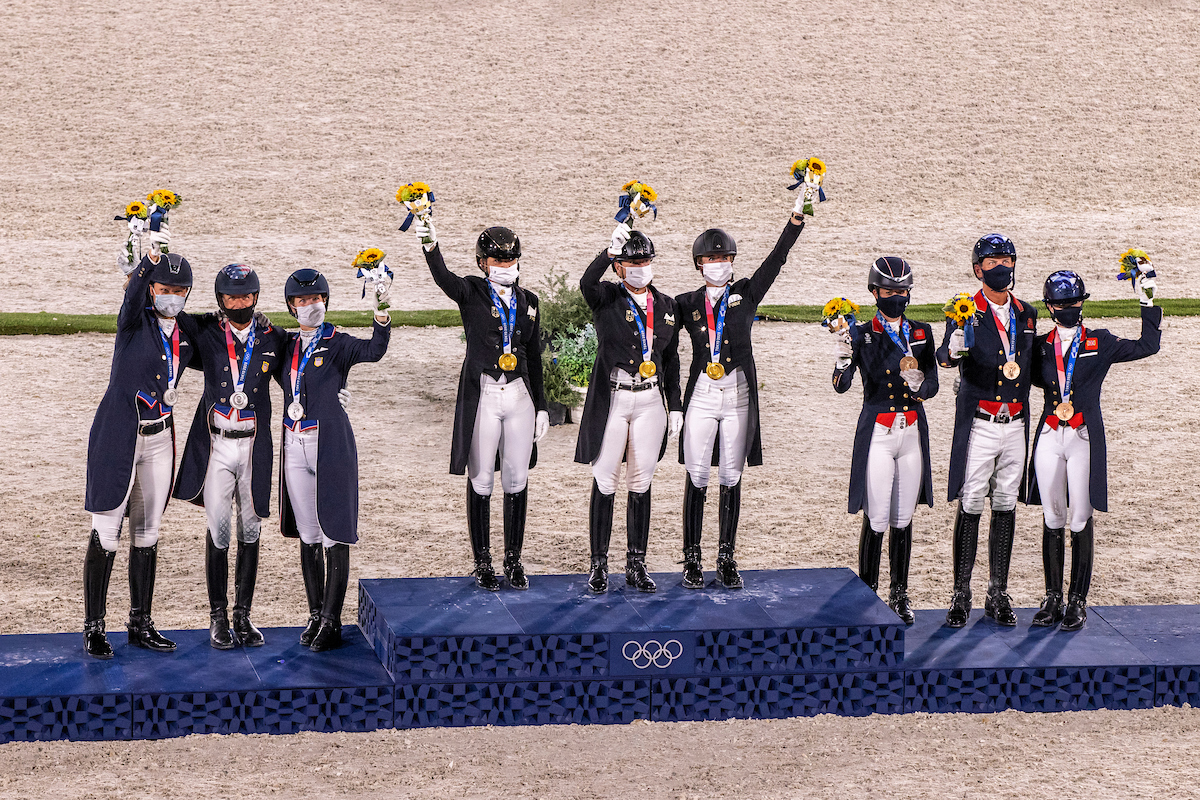 An unsuccessful Dutch fight for bronze
The Dutch rider Marlies van Baalen was third to enter the ring, riding Go Legend (v. Totilas). They put in a fine effort, with a few mishaps: for one in the transition from passage to walk, some hesitation in the first piaffe and a misstep in both one tempi changes. The combination regained points with their passage, well-executed pirouettes and impressive extended canter. They scored 2342,5 points for The Netherlands, which translates to 71,201%.
In comparison to the other nations fighting for bronze The Netherlands' first result seemed a bit too lean, setting up their fight for a podium to be a tough one.
Hans Peter Minderhoud scored 76,353% (2512 points) with Dream Boy (v. Vivaldi). The black stallion showed some powerful movements, an easy and quiet extended walk and lots of elasticity and buoyancy in all gaits and tempi's, but could surely do with a bit more quietness in the mouth.
Showing an expressive front leg in all gaits, a very athletic, forward passage and powerful piaffe, Gal rode Total US (v. Totilas) to 79,894% (2628,5). An impressive score, made even more impressive by the fact that it was the nine year old stallion's very first Grand Prix Special ever. The combination seemed to stumble a bit in the last line, but throughout the test the hardworking stallion gave Gal some vert expressive tempi's and pirouettes, although he could do with a bit more quietness in his carriage.
The Netherlands finished their team competition on 7479,5 points and a fifth place.
Highlights of the afternoon
One of the very first highlights of this afternoon was Adrienne Lyle's test. Riding Salvino (v. Sandro Hit) the rider from the United States impressed the judges with an extravagant piaffe and passage and a lovely powerful trot. She scored 76,109% (2504 points).
The first combination to score over 80% was Dorothee Schneider riding Showtime FHR (v. Sandro Hit) for Germany. Schneider collected 2652 points (80,213%), bringing Germany in the lead right going into the first break. There was a small fault in the transition from passage to trot, but their powerful half-passes, strong canter and fine lines of piaffe made that small mishap a quick one to forget.
The Danish rider Carina Cassoe Kruth impressed again with her stunning black mare Heiline's Danciera (v. Fuerstenball OLD). At only ten years old, the very well-balanced and elegant mare shows great future potential. Besides some really small mishaps, they scored a wonderful 77,766% (2537 points), proving a solid foundation for further growth.
Isabell Werth (GER) was the last rider to enter the ring before the second break. With a lovely soft carriage of the neck, elegant and gentle movements and some very precise riding Werth and Bella Rose 2 (v. Belissimo) scored 83,200% (2740,5 points) The pair excelled in their correctness, small and balanced pirouettes, wonderful passage and piaffe and superb last line.
Spectacular finale
With Gal, Schut-Kery, Dufour, Dujardin and Bredow-Werndl to represent their nations last, the final part of the Grand Prix Special promised to be a spectacular one. And so it did.
Right after Edward Gal's 79,894% taking The Netherlands in the lead, the Danish Cathrine Dufour further scattered the Dutch's hopes for a medal. After scoring 81,065% on Saturday, she put in another harmonious test with her eleven year old chestnut gelding Bohemian (v. Bordeaux 28). This day they scored 77,720% (2557 points), bringing Denmark's total to 7540 points.
All was in the hands of Sabine Schut-Kery and Sanceo (v. San Remo) to win the USA a bronze medal or leave it to the Danish. After showing the world their impressive form over the weekend, the combination again showed everything they got. Moving uphill, balanced and with lovely soft hands, the duo scored 81,596% (2684,5 point). Totalling 7747 points for the USA, a teary-eyed Sabine did not only take bronze away from Denmark, but also put Great-Britain under pressure for silver.
Riding her tiny chestnut gelding Gio (v. Apache), Britain put all hopes on Charlotte Dujardin to win the team silver. His awesome passage, powerful canter, wonderful tempi's a gorgeous last line the little chestnut gelding made us fall in love with him even more. Silver wasn't quite meant to be for Great-Britain though. Dujardin's effort was rewarded with 79,544% (2617 points), bring the team total to 7723 points. Staying 25 points shy of the USA, the Brits take home bronze.
Jessica von Bredow-Werndl and Dalera TSF (v. Easy Game) made hearts flutter with her absolutely gorgeous final test. The combination gave the audience some gorgeous examples of a perfect passage and piaffe, scoring ten after ten. With lots of softness, ease and elegance Jessica won the team gold for Germany in great style. With the highest score of the day (84,666%), Jessica brought her team to 8178 points.
In conclusion, here is the result of the 2020 Tokyo Olympics Grand Prix Special Team Final:
Germany (8178 points)
United States of America (7747 points)
Great Britain (7723 points)
Denmark (7540 points)
The Netherlands (7497,5 points)
Sweden (7210 points)
Spain (7198,5 points)
Portugal (6965,5 points)
Source: DigiShots News
Photos: Dirk Caremans – Hippo Foto