Julia Krajewski and Amande de B'Neville win Olympic eventing gold!
What a thrilling finale that was! After her brilliant effort in the dressage, cross country and team final, Julia Krajewski (GER) and Amande de B'Neville take a well-deserved individual gold, in absolutely brilliant fashion. Tom McEwen (GBR) and Toledo de Kerser take silver and the legendary Andrew Hoy for Australia wins bronze with Vassily de Lassos. Read a report of the finale, as it happened, down below!
Live blog
The very first individual finalist to enter the ring is Fouaad Mirza and Seigneur (v. Seigneur d'Alleray XX) for India. The combination touches three poles and adds a time fault, coming to a final score of 59,60 points.
Felix Vogg for Switzerland is riding Colero (v. Captain Fire). Going into the individual final they're on 46,50 penalties. The thirteen-year-old bay gelding starts smoothly over the first few 1,45 meter fences, but makes a fault on his way home. Adding 4 penalties for their jumping fault and 1.20 time penalties, they end on a total of 54,60.
Jesse Campbell (NZL) and Diachello (v. Diarado) have an unlucky early fault and take with them the first jump of the double. With some time faults, the combination adds 9,60 penalties to their score.
What a disappointing end to a lovely round: Suzanna Bordone and Imperial van de Holtakkers (v. Quidam de Revel) take the final fence down and add a time penalty to their score. The Italian combinations comes to a total of 50,50 points.
Alex Hua Tian (CHN) and Don Geniro jump to 17,60 penalties and a total of 62,30.
Doug Payne (USA) and Vandiver show that they still got some fuel in the tank. With ease they go round in the course, just taking the double at the end of the course. With a little time fault as well, they add 4,40 penalties to their score. They're now sitting at 48,20 points.
Fellow American Phillip Dutton is next. Riding the Zangersheide-gelding Z (v. Asca), he misjudges the triple combination and adds a time penalty as well. With 10,80 penalties, they come to an final score of 54,10 points.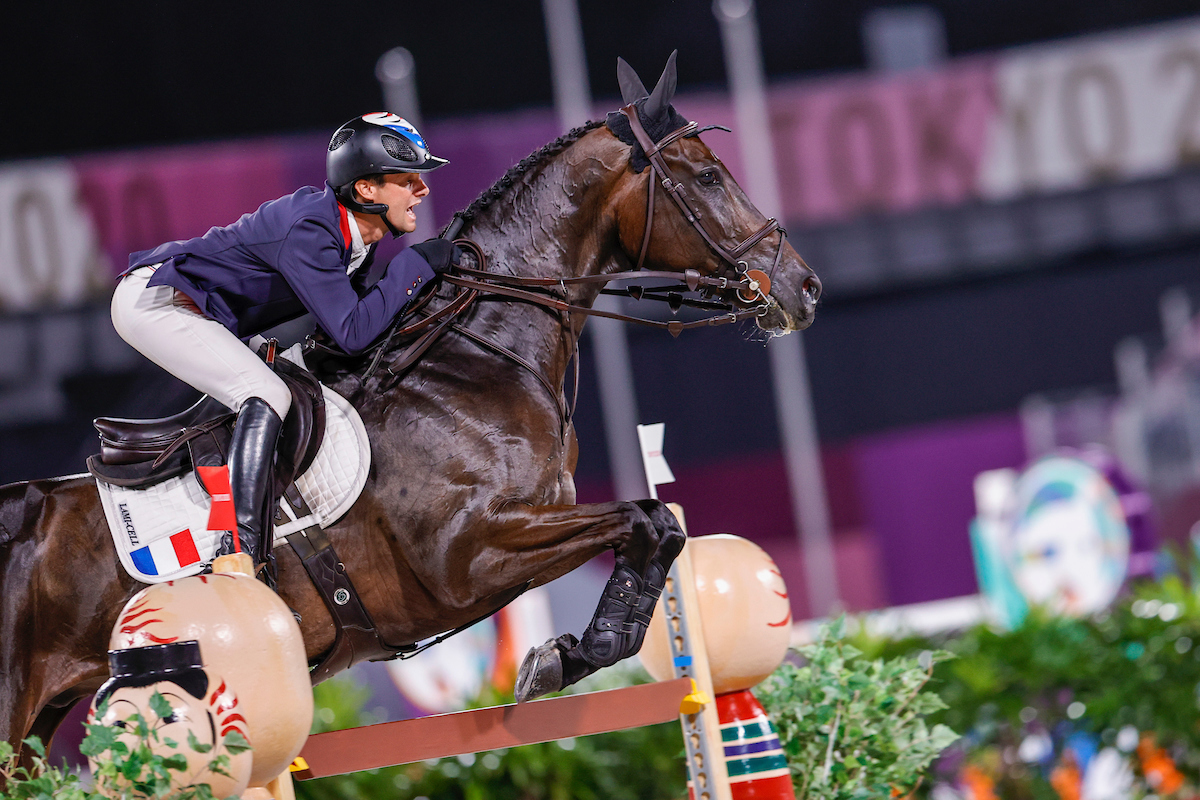 Still no clear round… will the Irish Austin O'Connor and Colorado Blue (v. Jaguar Mail) be the first? They start off with a nice, steady pace… but is unlucky in the combination too, taking 4 penalties! They're the first though to stay well within the time allowed. With 46,00 penalties they are currently in the lead.
An amazing effort from the youngster participant of this years Olympic eventing. Taking a penalty in the combination and on the very last fence, Lea Siegl (AUT) and DSP Fighting Line (v. Ostermond XX) add 8 penalties to their score. At just 22 years old, Siegl can certainly look back on a wonderful first Games. She ends up with a final score of 47,00 points.
Things are certainly not going Tim Price's way today. The rider from New Zealand and his Vitali (v. Contender) add a disappointing 21,60 penalties to their score, ending on 60,40 in total.
Boyd Martin for the USA and Tsetserleg TSF (v. Windfall) collect 13,60 penalties, coming at a total of 52,30.
Melody Johner for Switzerland put in a lovely clear round earlier this morning, riding the fourteen-year-old grey gelding Toubleu de Rueire (v. Mr. Blue). Just like the riders that went ahead of her, Johner brings home quite a few penalties: 13,20. The combination comes to a total of 49,70 penalties.
The many penalties seem to turn into a pattern. For France, Karim Florent Laghouag and Triton Fontaine (v. Gentleman IV) didn't manage to stay clear either, unfortunately messing up the final double completely. With 8,80 penalties in the end, they come to a total of 45,20 points. The Frenchman raised his shoulders with a smile after going over the finish line: oh well, what can you do?
The individual final is certainly proving to become a real test. Shane Rose and Virgil (v. Vivant) for Australia remains within the time, but makes a fault in the double too. They add 4 penalties to their score, coming to 39,70 points.
His Ozzie-compatriot Kevin McNab and his Dutch warmblood Don Quidam (v. Quidam) add 12 penalties, coming to 46,90 points.
All the eyes are on Nicolas Touzaint for France now. They were clear in both the cross country and the first jumping round, adding just some time penalties to their score. Will he and Absolut Gold (v. Birkhof's Grafenstolz) manage to be the first combination to remain clear? They touch the triple combination lightly… but manage to do it! With a huge smile and a fist in the air, the Frenchman flies to first a provisional place with 33,90 points!
Jonelle Price and Grovine de Reve (v. Hermea de Reve) for New Zealand were clear in the first round, but collect 9,20 points in their second round. They come to a total of 41,90 points.
What will Michael Jung (GER) do? Riding the thirteen-year-old Chipmunk FRH (v. Contendro I) he sets off on a lovely pace, like he did in his first round. He touches the triple combination… and then takes an unfortunate hit at the double. With that, he's put to a total of 36,10 points.
Kazuma Tomoto enters the ring to represent his country of Japan. Riding the twelve-year-old French gelding Vinci de la Vigne (v. Esterel des Bois) he brushes a couple of the fences… but stays clear! He adds just a little time fault to his score, coming to a total of 31,90 points.
Christopher Six (FRA) and Totem de Brecey (v. Mylord Carthago) are next. With the fourteen-year-old grey gelding he jumped around clear in the team competition, but take a hit in the triple combination too. Adding 4 penalties to his score, he ends with 35,20 points.
Winning team gold this morning, it's now up to Laura Collett (GBR) to fight for an individual medal. Riding her twelve-year-old bay Holsteiner London 52 (v. Landos) she canters around at amazing pace… but will they remain clear? All is looking good up to the final line… but then the pair take the two last fences go down! Her score come to a total of 37,80, well outside reach of any individual medals…
It's Australian's Andrew Hoy who shows us how it's done! Staying clear in the cross country and both jumping rounds he jumps himself to medal contention with Vassily de Lassos (v. Jaguar Mail)! They're still at their dressage score of 29,60 points.
On to the final three… Tom McEwen for Great Britain is next. With Toledo de Kerser (v. Diamant de Semilly) he jumps a gorgeous, flawless round… He takes just one small time penalty, ending on 29,30 points. That sounds like a possible medal to us!
How about Oliver Townend for Britain? In the lead after cross country and taking one jump fault in the team final… Townend takes another right on the first jump in. He and his Ballaghmor Class add 4,80 points to their score, losing out on the individual medals.
And so the last rider goes in. Will Julia Krajewski and Amande de B'Neville (v. Oscar des Fontaines) grab the gold? They're certainly not the German combination expected to be in this position. If Krajewski stays clear, she'll win gold. And… she does! What an amazing round! With a huge smile and tears in her eyes she falls around the neck of her wonderful eleven-year-old bay mare. What a thrilling finale that was!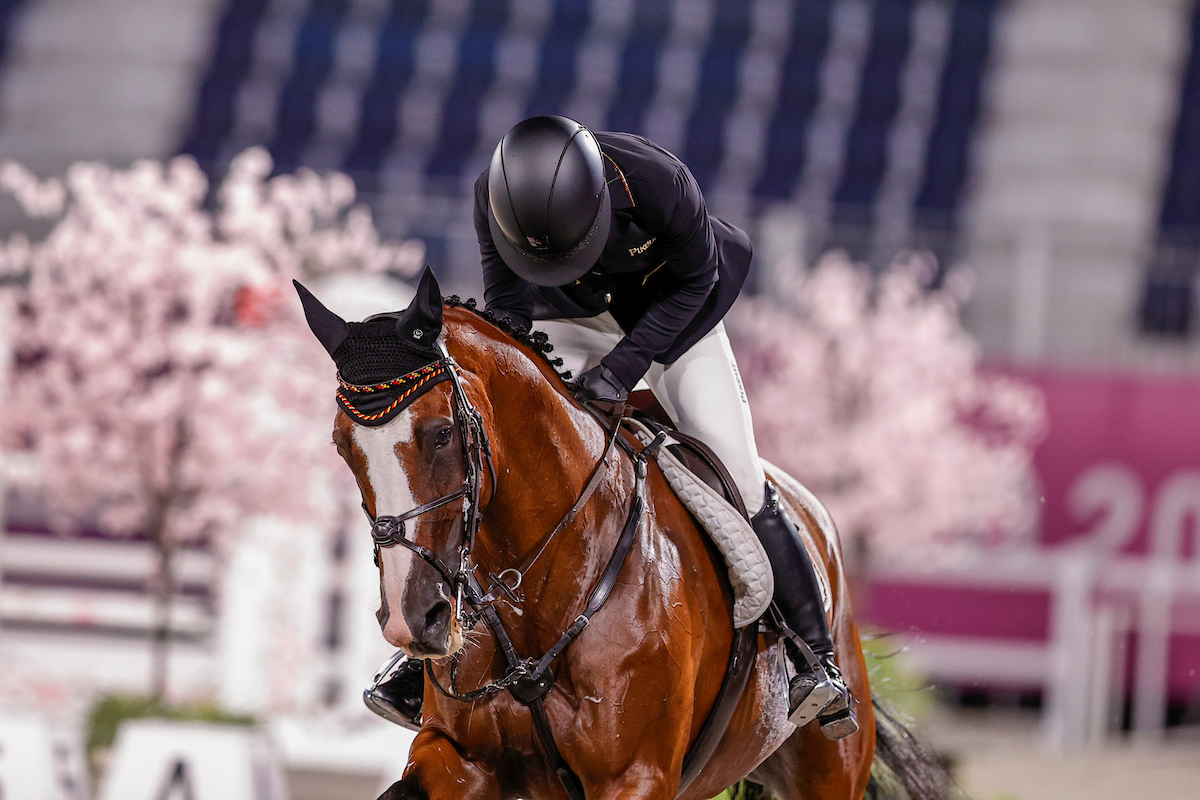 Source: DigiShots News
Photos: Dirk Caremans – Hippo Foto