The almighty Swedish take World Championship gold
Lots of cheers, cuddles and horses that gave their riders wings. It was a more than exciting ending of the team championship for jumpers at ECCO FEI World Championships in Herning. The almighty Swedes were out of reach and stayed secure on top of the ranking, winning another gold medal: their first at a World Championship.
The Swedish team secured the gold medal even before their last rider was going into the arena, so it was a safe spot for the anchor Peder Fredricson riding H&M All In (by Kashmir van Schuttershof) in the Stutteri Ask Stadium tonight. He got 12 faults, but even if his result would have counted, it would have been a win for Sweden anyway. And that says a lot: they were out of reach on Friday. Adding the World Championship gold medal to last year's gold medal from Olympics in Tokyo.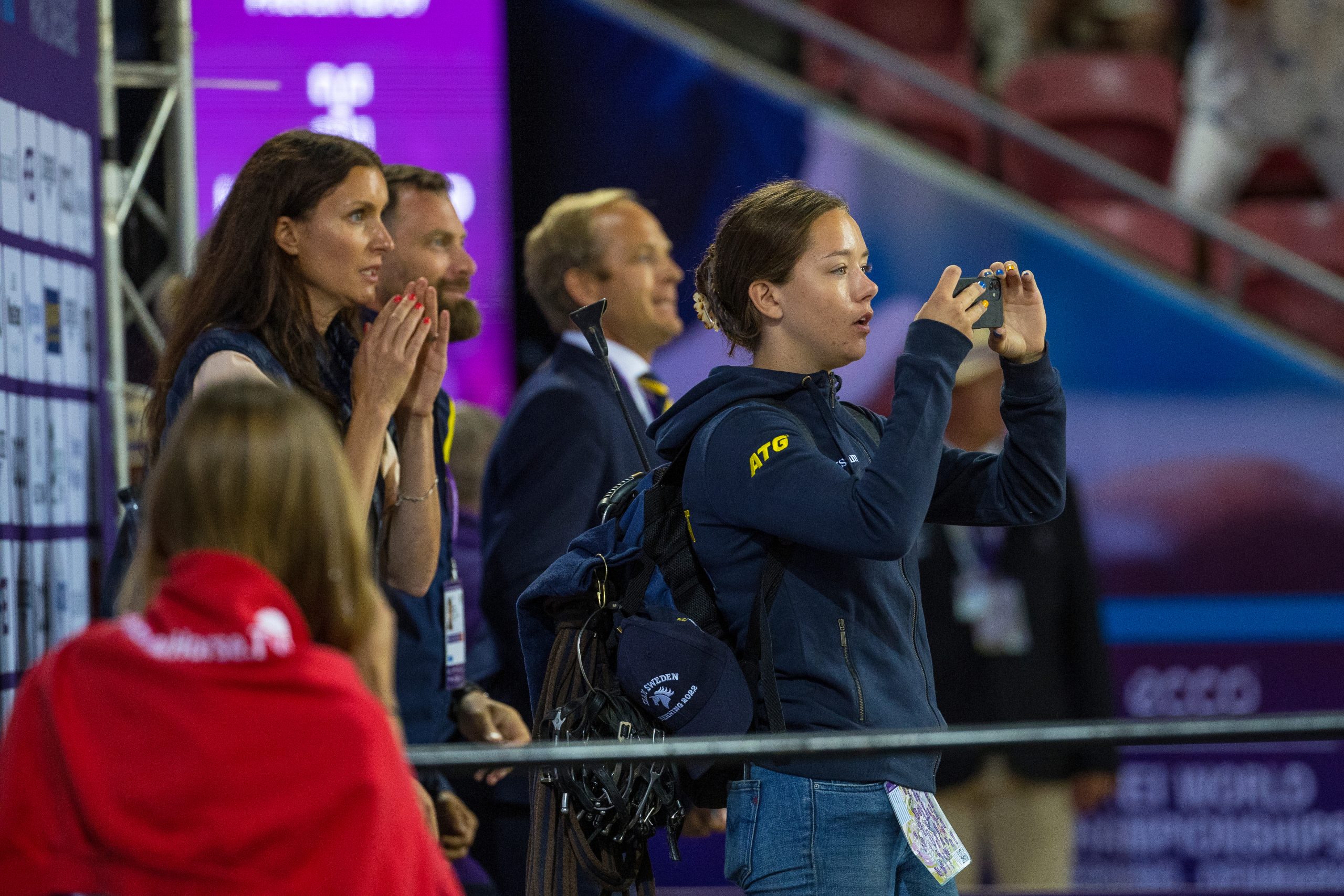 "This week went fantastic for us so far. A championship is always a roller-coaster, it goes up and down, and you are counting the faults, but I think even with Peder's score we would have won, so I cannot complain", the Swedish Chef d'Equipe Henrik Ankarcrona said. Besides Peder Fredricson, the Swedish team consists of Henrik von Eckermann with King Edward (Edward), Malin Baryard-Johnsson with H&M Indiana (Kashmir van Schuttershof) and Jens Fredricson riding Markan Cosmopolit (Calido I).
Silver went to the riders in orange, who made their way to the podium with four very good rounds today. Jos Lansink, who trains the Dutch team was more than pleased: "I am very happy. When we were halfway through today, we thought that the qualification for Paris was very far away, but after just two time fault in the round of Jur and Long John Silver (Lasino), that prospect looked better again. Then when Harrie did a fantastic clear with Monaco N.O.P. (Cassini II) we had a chance to get a medal. That we finished second was a nice bonus", he said. The top five position in the team competition qualified them for a spot in Paris. The team was completed by Maikel van der Vleuten and Beauville Z N.O.P. (Bustique) and first-time world championship competitor Sanne Thijssen, riding her Con Quidam RB (Quinar Z).
Third and bronze winners were the British team with two experienced riders and two younger riders participating. Ben Maher and Faltic HB (Baltic VDL) delivered three top performances so far, 22-year-old Joseph Stockdale and Equine America Cacharel (Cachas) finished off with just one fault, 23-year-old Harry Charles and Romeo 88 (Contact van de Heffinck) rode an amazing clear and Scott Brash and Hello Jefferson (Cooper van de Heffinck) supported the team with amazing rounds both at day one and two. The British went all the way from a sixth place to the podium with their rounds today.
The Swedes ended with a score of 7.69 faults, the Dutch with 19.31 and the British with 22.66 fault. Besides them, also Ireland and Germany qualified for the Olympics in Paris.
The individual championship it is also looking good for Sweden, who sits on the two best positions going into the Agria Super Sunday, where the individual final will take place. It is Henrik von Eckermann with King Edward in the lead with just 0.58 faults in total. He is followed by his teammate Jens Fredricson and Markan Cosmopolit with 2.71 faults.
"It was amazing winning today, really good. My horse jumped amazing again and I am looking forward to Sunday. The Swedish supporters are always amazing, we have a fantastic crowd with us", Henrik von Eckermann said.
In third position is Belgian Jérôme Guery with his beautiful stallion Quel Homme de Hus (Quidam de Revel). They've got 3.35 faults on the scoreboard thus far.
The battle to the podium is a close one. Just two faults would be enough to turn the results upside down. If the Swedes want to stay on top, they need to keep delivering clear rounds. A more than exciting finale to look forward to!
Source: DigiShots News, Herning