Denmark's historic gold medal victory in 10 photos
It was a fairytale-come-true for all those present at the Blue Hors FEI World Dressage Team Championship Grand Prix in Herning, Denmark. In front of an overjoyed crowd, a team of four young Danish dressage riders made history on home soil, winning their very first golden team medal.
There really wasn't much talk about a home advantage, as the other nations present really put up a good fight. Germany, Great Britain, The Netherlands and Sweden truly made the team class one of suspense. With only a few percent splitting the teams, the battle for the podium was a tight one.
In assignment with the FEI, our photographer Leanjo was there to pick up all the action through his lens. Here's an overview of Denmark's historic victory in ten photographs: some made for the FEI, some exclusive for our readers here at DigiShots News.
1. Routinier dance partner
Nanna Merrald Rasmussen was first to start for Team Denmark, riding her test on the Saturday afternoon. She set the tone with a convincing 76.724% percent riding Blue Hors Zack (by Rousseau): a truly routinier dance partner with his 18-years-old age and plenty of experience under his girth. "It is completely wild, I cannot really believe what we have done, deliver Zack's highest score ever in international competition. He is so special, and he is totally amazing. Sure, there was a bit of nerves involved but this what dreams are made of, I am so, so happy", Nanna said to the FEI.
2. Everything's coming together
Carina Cassøe Krüth was up next: "It is a combination of several years of training and building up expectations to this event. I feel that a lot of things have come together in the last months. I made a small mistake, my mistake but I cannot be anything but really happy for our ride. It felt that it barely could have been much better." With her black Fuerstenball OLD-mare Heiline's Danciera she scored 76.585%.
3. Nothing short of amazing
A day later, on Sunday afternoon, it was time for Daniel Bachmann Andersen and Marshall-Bell to add to the team effort. They ended up being the drop result, but with 76,584% their performance still was no short of amazing. Daniel said to the FEI: "I am so thrilled to make it to the World Championship with Marshall-Bell, I was pleasantly surprised to discover that he did not even clip his ears over the atmosphere and the wild applause in the stadium. I am so happy that my safe round actually turned out to be a personal best, I only aimed to play it safe for the team. The stadium is just crazy amazing, I am immensely proud to be part of our team." 
4. Crazy amazing audience
And crazy amazing that audience was, especially when Danish heroine Cathrine Laudrup-Dufour entered the stadium. Under a loud applause she and her 10-year-old Westfalian gelding Vamos Amigos (by Vitalis out of a Blue Hors Hotline) finished their test, scoring a whopping 81,864% and with that ending up on top.
5. For the home crowd
Catherine: "Thank you to the audience – you rocked the arena to perfection. I was a bit nervous, I am always nervous. But today I calmed Nathalie and Kyra and told them; we can do this. My horse was nothing short of amazing. I feel so immensely proud for what my team members have done, we are all so proud of our achievement".
Her test was lovely and correct, but many felt there could have been a bit more oomph in there… which makes us all the more excited what she might bring to the individual finals.
6. Through the players tunnel
7. Writing history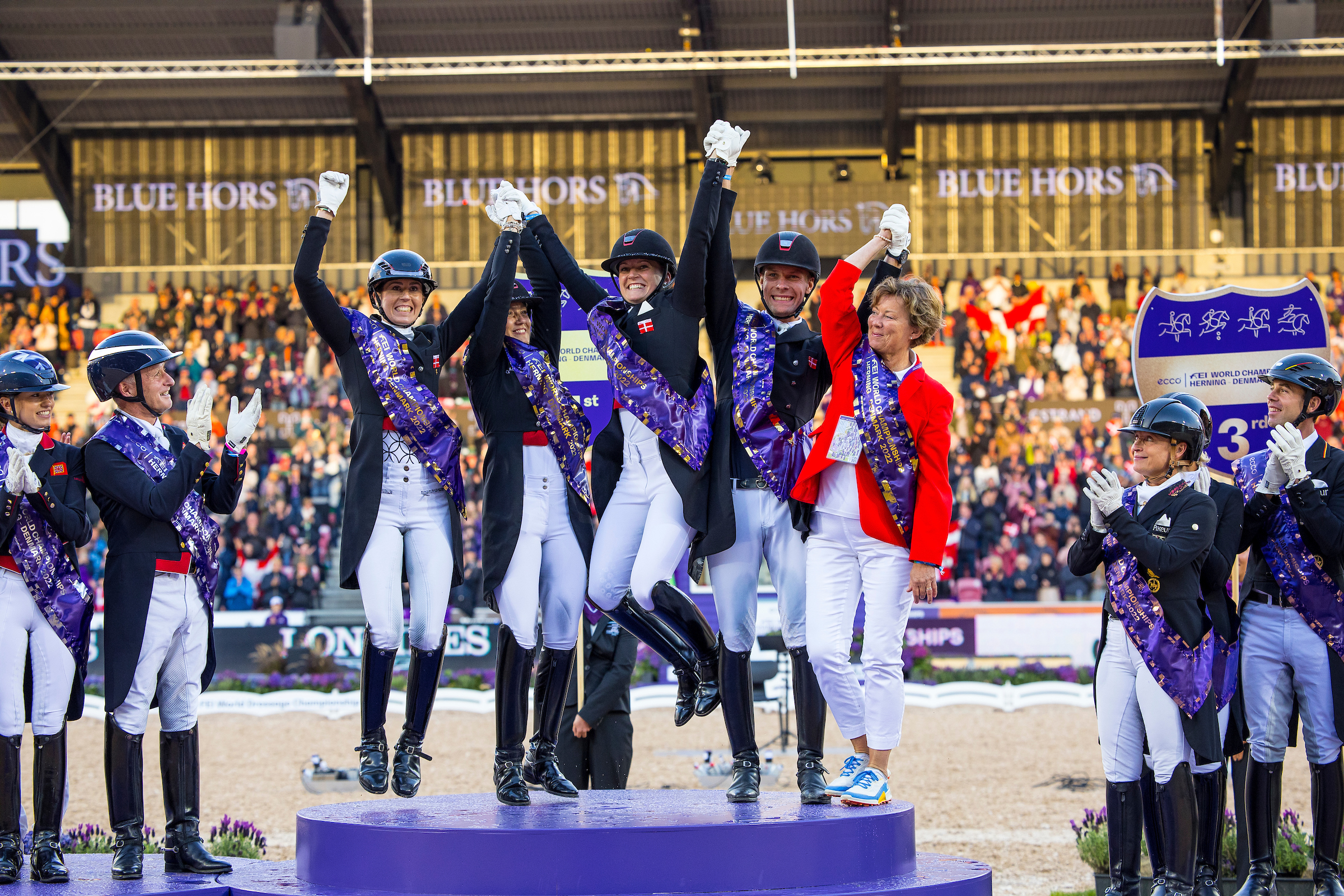 8. A close podium
With a team total of 234,451% the Danish ended up on top, with Great Britain (234.223%) and Germany (230.791%) in some very close silver and bronze medal positions.
9. A moment for the grooms
The Organising Committee decided on a new style of medal ceremony, with the riders entering through a players tunnel on foot, followed by fireworks and a special moment of appreciation for the grooms and owners, before the horses were brought in for their victory lap.
10. They did it
Source: Photos by DigiShots News, Leanjo de Koster for FEI and flash quotes by FEI